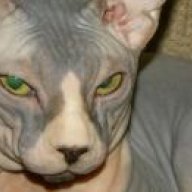 Joined

Feb 10, 2010
Messages

51
Points

19
hello everyone, my names Stacy
ive been lurking for a couple weeks thought its about time i join since im picking up my first hairless baby on Sunday!!!!!!! ive always wanted one and done a ton of research. i am adopting a 2 year old blue and white male! i have a list of names that i like but im gonna have to meet him first.
i currently live with a ball python, kenyan sand boa, 4 crested geckos and a hairless chinese crested and the kitty will complete my family!
heres a pic of my little girl, Gucci. please nevermind the orange hair, lol i colored her hair for halloween.
im super excited about meeting everyone and seeing photos of everyones beautiful cats! i will definitely post pics of my boy when i get him home!
names are also welcome, still looking for the perfect one!