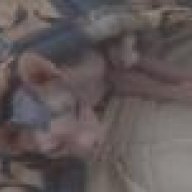 Senior Lairian
Senior Lairian
Joined

May 27, 2009
Messages

389
Points

58
I hate to even ask here, I know this is mainly for our beloved Sphynx cats, but I know we have alot of dog lovers here as well so I figured this was worth a shot!
Ok, once again I've succeeded in shutting down yet another puppy mill! However, I NEED HELP! I was originally told there where 12 Italian Greyhounds and 4 Min Pins, well, numbers keep going up! I send 8 Italians to another rescue group closer already, and I'm now taking 14 or 15 Italian Greyhounds, and 4 more Min Pins in addition to the 2 Min Pins I already rescued from this place! The 4 Min Pins are safe in a foster home in Kansas right now, but I need help! I was prepared for 8 more Italians and the 4 Min Pins, now 6 more SENIORS have gotten added to this group, and I don't have enough money put aside to vet this many dogs, the other rescues I've called are all full right now, I've got places for them, but need help getting everyone vetted! If anyone has extra leashes, martingle collars, harnesses, dishes, blankets, towels, toys - Anything like that they'd be willing to donate, I can use all the supplies I can get to take care of all these dogs!
Also, if there's anyone in the Denver area that would be willing to temporarily foster some of these dogs for a few days, the Italians will be arriving in Denver tomorrow afternoon or early evening, the pilot flying them there is willing to foster all of them short term, but would love someone to help if anyone is willing to take any of these dogs to foster until we get another pilot to fly to Utah sometime this week. 15 dogs is alot for anyone to handle!
If anyone can help, please e-mail me, or if you want to donate, the easiest way is by credit card, you can just call my vet directly, I use Canyon View Animal Hospital for most of my vet care, their number is 435-734-2900. Account is both under my name (Lydia Kunzler) and my rescue name (Iggy Palace Rescue). Paypal Donations are also accepted (They can be made by going to my rescue partner's website,
Bullie Buddies of Las Vegas
, and clicking on the Paypal link on the bottom, just note that it's for the puppy mill IGs, and Lisa will make sure the money comes to me - We both have cards to access funds on the Paypal account, my own Paypal account I don't want to upgrade so I have to pay higher fees, so I don't have a debit card to immediatly access funds!!!!), or I can give anyone that wants it an address to mail a supplies or donations to. I'm also happy to provide receipts for tax deductions if anyone needs that! I know that we have at least 2 dogs that I'm told are deaf, and 1 blind dog, 5-6 seniors, and most likely a couple of special needs dogs, there almost always are with these mill rescues!