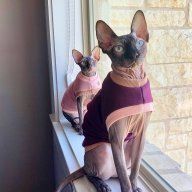 Senior Lairian
Senior Lairian
Joined

Mar 28, 2018
Messages

601
Points

198
Countdown to Kenzo is down to FIVE DAYS!
My excitement is now becoming anxiety.... Am I ready? How are my dogs and daughter going to get on with him? Will Kenzo love it here? Will he fit into our lifestyles easy peasy lemon squeezy? Is he naughty? Where in the house should he sleep? Ahhhhhhh!
Don't get me wrong, I'm still so thrilled to finally bring my baby home, but waiting has been so surreal. Now that gotcha day is upon us, I feel so unprepared!:nailbiting: For five years, having a sphynx was the equivalent of having a unicorn. Improbable wishful thinking. Now he's really coming! I realize this is silly, but I can't help it! (Virgo
)
To help ease my self-sustained stress, please take a look at my supplies and let me know if I'm missing anything. I have enough time for one last Amazon order before the king is finally in his castle!
He also has his bachelor pad, aka cat tree/condo. I feel like I'm missing something though! Help and thank you!