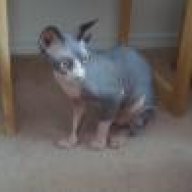 V.I.P Lairian
V.I.P Lairian
Joined

Jun 14, 2009
Messages

4,564
Points

0
I have a black and white sphynx named Cleo.
She will be 1 in August.
I am from Central California and plan on getting another sphynx some time this year.
I will start looking in the next few months.
I have showed Cleo a few times in CFA and it is fun.
I will be showing for the first time in TICA this October in Lodi.
I also have 4 other cats.
The oldest is 17 and her name is Coco.
She is a siamese mix and has CRF and Asthma.
My Meeko is Torbie colored and just turned 9 June 11th.
Sasha is mostly Russian Blue and will be 3 in August.
Oreo Cookie Monster had fcks so her chest is not shaped right and her heat is tilted. She will be 2 in August and only weighs 5.9 pounds.
She is black and white like Coco.
I took her because no one wanted her knowing she has that problem.
All of my cats get along real well.