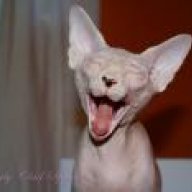 Joined

Mar 2, 2010
Messages

292
Points

0
Hi there!
My name's Shauntay, and I can't express how happy I am to have stumbled upon this website! I think it's fantastic to have so many Sphynx-passionate people in one place!
A bit about myself; I've been a pet groomer for my entire working career, all of 13 years! I absolutely love aninals, but cats, and in particular Sphynx, are my truest love and passion. I have four wonderful cats, two of which are Sphynx. The oldests name is Little Man, or Diddles...his year younger brother is Lucius, whom we have affectionately dubbed Douche, which in effect has completely changed the meaning of the word for all who have met him. "Douche" is now the epitome of everything that is cute and lovable in the world.
They are the most affectionate cats I have ever had. To the point of verging on annoyance and suffocating amounts of love which Im sure everyone on this forum willingly endures! They also live with a massive 200 lbs great dane, who they cuddle, regardless of his wishes.
Unfortunately, both my babies have HCM. Little Douche's is graded 5 out of 6. All five of the vets we visited during the first 2 months we had him said it was unlikely he would live past 6 months of age. He is now 5. We often chide that his heart is just too full of love to ever fail him. They are my soulmates and I couldn't live without them!
Because of this experience, and everything we went through, I have attained a large desire to contribute to this breed. I have been researching and educating myself on breeding Sphynx for the past 5 years. And I feel as though I will soon be ready to take on this endeavor. I think this forum will be a wonderful place to meet people who are very knowledgable in regards to this breed, and I hope to read about everyones experiences!
Sorry for such a long post >.< I am not going to spend the rest of the evening fawning over all the pictures of everyones babies now