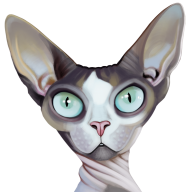 Administrator
Staff member
Joined

Jan 13, 2009
Messages

23,557
Points

643
How to prepare for a trip with your Sphynx cat
Here are some helpful tips on what to bring on a trip or outing with your Sphynx cat to assure their comfortable and safe:
1. The first thing before even leaving the house is to always be sure to have a good quality leash and harness which fits your Sphynx properly. It's best to put on the harness and leash before leaving the house so you always have something to hold the cat securely if needed.
2. Bring a pet carrier that is the proper size for your Sphynx cat to be comfortable in if he or she needs to remain in the carrier for short or long periods of time. There will be times that you will want to put your Sphynx in the carrier to enjoy yourself without having to worry about your Sphynx being in danger or stressed out.
3. We all know our Sphynx cats drink lots of water so be sure to purchase a pair of pet travel bowls for water and food. Always bring a couple of spring water bottles with you on your outing, there is no such thing as too much water.
4. A must have for travel is a disposable litter box, which can be found at most local pet stores. Your cat can use
these litter boxes for the day and then dispose of them after your trip.
5. Be sure that where ever you bring your Sphynx cat, whether to a park or another home with pets, that these animals your Sphynx cat comes in contact with are healthy pets. There may be other pets or outside cats that
may not be healthy or up to date with their shots. Be sure that your Sphynx cat is also up to date with all shots and has had his or her vet check up before traveling to be sure he or she is healthy as well.
A few other items you should bring are:
A few blankets. (just incase it gets chilly.)
Treats and one bowl of Kibble/ 1 can wet
Your Sphynx favorite toys.
Baggies (good for disposing your Sphynx poops and pees.)
Baby wipes (to clean up any mess or your Sphynx kitty.)
Leash and Harness
Water bottles
Hand Sanitizer (Just in case you get some poopy or pee -pee on your hand!)
Your pets med in a pill dispenser labeled properly and safeguarded so humans do not take it (Pet meds)
Paper towels, wet towelettes, and air freshener spray (JUST in case we have an accident...the cat I mean. )
Important:
As always check with your vet first, and make sure all products are pet safe!
Last edited: