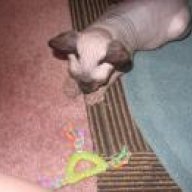 Senior Lairian
Senior Lairian
Joined

Sep 8, 2009
Messages

318
Points

88
When George first met Flare he was scared of her and would run, back up, and hiss. This took about a week and a half for him to calm down. Once he calmed down, he did the unexpected.... He kept trying to mount her! Shawn and I were completely shocked because both Flare and George are fixed! A day later we took Flare back to the vet and he said that due to her infections we should isolate her from George.
So now that Flare's mouth is fixed, my vet has given the "o.k." to letting her out confinement and letting her and George interact. This will be the first time since the second week after we purchased her. That's nearly 2 months ago!
The second we let them out to play, he makes these weird noises(almost like a ringing telephone) and he will not let her alone. We thought he was trying to mount her, but lately I'm beginning to wonder if he actually wants her for dinner. He does do the typical biting of the back of her neck, but he also licks her, tries to knock her down, puts her in head locks, and I've even noticed him wrapping himself around her side and scratching her with his hind legs(isn't this typical of cats with prey). I would be perfectly fine if he was just a horn dog, but I would not be OK if he's thinking she is food.

What is he doing? She will play with him for awhile, but after 30 minutes or so, she wants back in her room away from him. I think this has to do with him constantly pouncing on top of her. Flare is a petite girl and George is monstrously huge.(he is currently on a diet) He weighs 18 lbs. and she weighs 8 lbs.