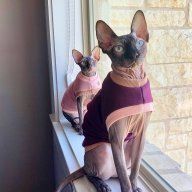 Senior Lairian
Senior Lairian
Joined

Mar 28, 2018
Messages

603
Points

198
I do not like cats....
.... like AT ALL...​
... I am a DOG PERSON... who loves Sphynx

​
Whew! It feels good to get that off my chest!
To be entirely honest, I've had a couple cats in my childhood. My ex-roommates had cats, my neighbors had cats, and my friends had cats; all furry, all mundanely regular in my eyes. I didn't hate them, I just did not care for them, and had zero interest in having one as a companion. I was a self-proclaimed dog lover, and that was that! I had Boogie, the gentlest, most loyal brindle pitbull boxer mix and Brodie, a 4 pound spitfire Yorkshire terrier. Then, one day, five years ago, I met a sphynx kitten. I was immediately drawn to it's tiny, hairless body and adorable alien face! He was only around 12 weeks old, black with piercingly distinct golden eyes.
I am a lover of the peculiar and the unique. This strangely beautiful animal checked all my boxes! He had a
look
and the personality to match! I took a selfie with him, and that sealed my fate. I was lovestruck. I spent countless hours researching and looking at videos/pictures. I knew I MUST have one to add to my doggie crew (affectionately deemed the Stinky-Boys Club by my hubby). I showed Hubs endless pictures of sphynx and elves and bambinos, and for a second he was intrigued as well.... until I shot myself in the foot by revealing that, upon petting the sphynx, I found their skin akin to a certain part of the male anatomy. That was a deal-breaker. Insert shot-foot-in-mouth.
I spent a few more weeks trying to persuade him, but he wasn't buying it. My phallic implications had ruined any chance I had of having a sphynx of my own. Over the years, we added two axolotls (water dragons) and a beautiful baby girl to our tribe. Our love tank was full, but still, in the back of my mind, lingered the thoughts of that naked feline I had met!
Then, last week, out of the blue, destiny was back on the table! Hubs had come across some pictures of new sphynx kittens from a local breeder on his FB feed, and was quite taken with them. He showed me the breeder's site, and it turned out to be the same cattery that produced the black nudist kitten I had met five years prior! The stars aligned and Mercury was no longer in retrograde (I actually don't know what that means lol); I was instantly in love! I filled out the lengthy application, then called the breeder the next morning and managed to reserve the second to last kitten from her current litter!
Here is my little man. Four weeks old as of Saturday! He is a seal mink. His mom is also a seal mink with very vivid eyes, and his dad is a stunning blue point.
My tribe will be complete on May 26th.
... I just need to remember to come up with a better simile to describe this guy's skin texture when he arrives!
​
Last edited: