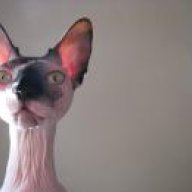 Joined

Mar 6, 2010
Messages

1,229
Points

0
I met a lady at the show this past weekend that imports these I Love my "____" magnets for your car or anywhere else for that matter. When she saw Hibou she asked if I had a picture they could send the maker / seller of the magnets. This person would like to make a Sphynx one. They did make one...but it only had the picture of one kitty on it...and they spelled Sphynx...SPHINX...doe any of you spell it this way??????
ANyhow, if anyone would like the chance to have their kitty portrayed on this type of thing, they require a high-res photo, but it cannot be anything that was done professionally (no copyright infringement please)...oh and there is no remuneration (you will not be paid) it is strictly on a volunteer basis.
If anyone wants more info, please feel free to PM me.
I have attached a picture of her other magnets so you can see what they look like.