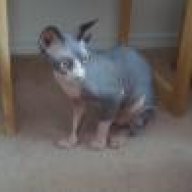 V.I.P Lairian
V.I.P Lairian
Joined

Jun 14, 2009
Messages

4,564
Points

0
I talked to the vet about Wrinkles yesterday and she said she did not complain when they did the blood tests and put the I.V. in.
The techs also said she is one of the nicest cats they ever met that had surgery.
I asked if she meowed and they said no she not care out all that she was being poked.
She meows at the shows when she is judged and never plays with the toys in the ring.