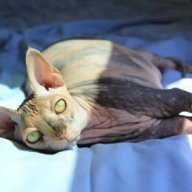 Joined

Dec 28, 2013
Messages

16
Points

24
An admin recommended that I share our IBS story, so here goes!
My husband and I took over the care of Miss Kitty (now 14) when she was around 5 years old. At the time, she was very overweight, being fed low-quality food, had tooth issues, and had not been bathed, had her ears cleaned, or visited a vet in almost 4 years. She was an absolute love bug and very, very loved but living with my grandmother who did not have the money or know-how to properly care for a sphynx. We adopted Miss Kitty when my grandmother passed- also without knowledge of the breed.
We got her bathed and cleaned up, had her shots at the vet, and got her settled in very quickly. We then started to notice a pattern of vomiting about 3 months in. It started with once or twice a week and quickly became once a day with loose stools. Back to the vet we went. Blood work at the time showed an infection, likely from her teeth. We got that taken care of with antibiotics and a cleaning, but the vomiting persisted. One week with vomiting one to four times per day and then two weeks without anything. It was a terrible cycle with no real cause we could find.
The vet concluded that she was probably suffering from IBS, but we never did any testing because I believe it is too invasive for what the test could tell us. Thickening of her intestines was confirmed by radiograph. And so began years of constantly researching diets, changing foods, and trying to find something that works for her. Unfortunately, one of the hallmarks of IBS kitties is that they will suddenly stop eating something they have happily been eating for a long time and it is totally out of the blue. Each time this happens, it re-starts the cycle of research, trial, and error. We have found that any type of fish, turkey, rabbit, beef, and chicken set her off.
At the moment, she is eating Nature's Variety Instinct Grain-Free LID Duck dry and canned. We have found that grain free is one major key to success. Another is adding fiber. We had a lot of luck with canned pumpkin for a while, but eventually moved to a slippery elm bark "slime." (More info about this here:
http://www.littlebigcat.com/health/slippery-elm/
) The slime coats their system to reduce acid which was causing a lot of her vomiting. The fiber in the slime also makes her stools prize-worthy (most of the time.) The third key to our success is a very regular feeding schedule. We found that she will vomit from over-eating and drinking if we wait too long between feedings.
The problem is that IBS is a never-ending battle and is different for every cat. Our goal was to avoid steroids and over-testing and to get her on a diet that worked for her. I could go on and on about everything we tried that did not work for her- but as of writing today, everything is well-controlled. (knock on wood!) We take everything one day at a time.
Thanks for reading!