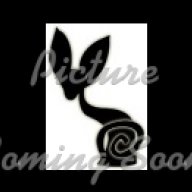 Joined

Apr 3, 2010
Messages

1,307
Points

0
So hubby (who did not want a cat but is now sliding down the slippery slope to crazy cat man), has been talking about getting a kitten. He said we were going to name it Butter Jones and it would be white or pink (this is also the same man who in the beginning said he did not like the pink Sphynx).
Well I am am not going to say no to another Sphynx. I mean if hubby wants another what kind of wife would I be if I said no? I should support my husband in the things that make him happy right??? So if Sphynx #3 is what he wants....
So in all of this (which I think started out as a joke but I ran with it), I started casually looking at kittens. Last week, I came across a breeder that is only an hour from me! Lo and behold as I am looking through the available kittens, there he was... Butter Jones! I showed hubby and he thought he was so cute! He said to contact breeder, so I did!
Both parents scanned clear and not only for HCM but mother is also scanned negative for FeLV/FIV/FCoV/Toxoplasmosis. Pedigrees available and also scanned clear. YAY! He was born on July 30. I am so excited! All pink and wrinkly naked goodness!!!!!!!!
So without further delay, making his arrival to our family at the end of November is Butter Jones...
Last edited: