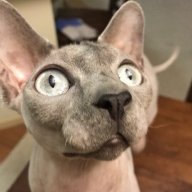 Joined

May 14, 2017
Messages

165
Points

71
Hi everyone, I have a question:
Are Sphynx kittens a special brand of crazy??

Merlin, our beautiful lavender sphynx kitten, is a wonderful maniac. He plays and plays and I rarely see him stop. Even at night, he hardly seems to take a break.

We have plenty of toys for him, including a tunnel, several boxes, mice toys and rattling ball toys. There's plenty of space for him to run, and he takes full advantage of it. Plus, he has our other kitten Tansy to play with. They cavort around the apartment all day long!

I'm away at work a lot of the day, so I hardly ever see Merlin "crash" like everyone says kittens are supposed to do.

Should I be happy Merlin has so much energy? Is this normal?