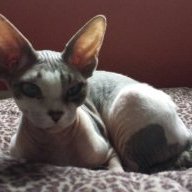 Joined

Apr 23, 2012
Messages

12,474
Points

653
an hour ago my neigh in a wheel chair called me to help a baby hawk out of the nest that is in the roadway !
I look and see two baby Hawks Needing to get to safety -
If you recall last years saga I had a pair of Hawks on my pool lanai on my patio furniture .
She is actually now the resident hawk that builds a nest in the oak tree by the roadway every year .
Well, yup two baby Hawks needing to get out of harms way- her husband is not home to help so she called me .
Sure enough baby is in the road nearly getting hit by passing cars.
I grab a box to put on the road so I can go get gloves etc
Mom,a hawk sees me and dive bombs at my head - close call-
I tell her I am helping her bs ones off the road amd will be back
I get my hoodie on ( it's 90s in Florida ) amd put on my motorcycle helmet
Amd get gloves and the golf umbrella .
My neigh is in her chair watching from a safe distance -
I hold the umbrella close to my head above my helmet .
Momma is pissed but baby needs off the middle of the roadway!
I tell her I am bringing the babies to her .
She is sqwauking and dive bombing at me
As per wildlife officials they may be fledglings momma pushed out of the nest to teach them to fly .
Told us to put them bsck in the nest if possible - what? 49 feet up with dive bombing momma hawk,!?
Officials said if thst is not an option to place them on the ground below the nest and momma will take care of them.
Well, they bs ones are still on the ground grass shaded area I carefully placed them.
But I domt think they are doing well.
Momma hawk still has ome baby in the nest she is feeding . She is flying all over obviously upset .
We called the womderful folks at the marine science center -
They will be in the area soon on a Release of a recovered bird .
As soon as they complete the release of the rehabbed bird , they will be here to check on the baby Hawks
Please keep all paws crossed these sweet baby Hawks will be okay
Yes , I feel like Dr Dolittle
A few weeks ago I had a feral cat from the TNR program in my attic - came in thru the roof vent
Went out and got a $60 trap and took him to the no kill shelter
The week before , neighs came to me about a sick raccoon by their car tire
my same neighbor thst called for the hawk just brought home a pregnant Pitbull two days ago to foster while she has her pups!
She is ready to have pups anyday (Someome dumped this pregnant sweet pittie at the shelter
amd there resources were tapped for space )
Oh , wonder when momma otter will be back with her pups
Yes , definitely feel like Dr Dolittle! I have adopted kitties , an orphaned Aussie from my ex fiance and now Momma hawk and babies to help
update: An hour ago the employee from the marine science center came and picked up the two baby Hawks. They will check them , get them strong and bring them back .
They plan on bringing the baby Hawks bsck in a few days along with a bucket truck to release them back to momma hawk's care
Please continue Positve vibes for these baby Hawks
Will update soon
Here are some pics of the rehab center picking up the baby Hawks
Last edited: