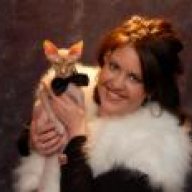 Joined

Sep 14, 2010
Messages

438
Points

0
Thanks to the 3Ts (Tess, Tux, and Twitch), Jack now has a trapper hat! Woot woot! I love it! Thanks guys!
So, I got back from Vegas Monday night, and I brought Jack back a monkey from Vegas, and as I was taking it out of the bag and trying to take off the tags before giving it to him, he was literally jumping up trying to grab the dangling legs! It's really not a pet toy, it's has magnets in the hands/feet at the end of the floppy arms/legs. It's really really cute! You can put on your fridge or clasp hands/feet together and put on a plant,anything. They are embroidered "Las Vegas†on the tummy. So, I got one for my fridge and figured boy might like one, too. Boy was I right! He loved it! Carry's it by the arm or leg around the house. This morning, he carried it into his blanket, I kid you not! Then he cuddled up trying to get under the blanket to lay down, so I helped him out a little. And he snuggled up to his new little monkey guy,maybe we'll name his monkey George! Ha! I will be happy as long as he leaves MY monkey on the fridge alone!
By the way, I was soooo curious to see his reaction when I went to pick him up from my friend's house (as she told me he was kinda "subdued†the whole time,she said just quiet, not like his regular self and she thought he was missing me and would walk around like looking for me). Anyway, I thought he might be a little creep and throw me to the dogs like he did last time I went to pick him up after my Santa Fe trip. Nope, I was shocked, I walked into the living room, he was cuddled under one of my friend's blankets on the couch, he saw me, got up, came to me, put his nose to my mouth, started rubbing his head against my leg and purring and purring, and rubbing and climbing on me. So so cute! My friend said he slept with her every night up against her, he cuddled with her on the couch, etc etc, but she said he didn't purr very much and was very subdued,not himself.
That night, it was like he couldn't get enough of me! He was grab/hugging my leg and biting my knee wanting to play! That's been his latest very irritating "thing†because he bites my pants on my knee and his teeth are like razors!
I was hungry when we got home and sat to eat a small bowl of muesli cereal with raw oats and Jack loves raw oats and usually he's learned to be quite the gentleman with my food, waiting for me to offer him a taste,this time he was like head diving into my bowl! I had to pull him out three times and put some oats down for him to eat! My friend said that she fed her cats and him all wet food together every morning and Jack (the pig) would finish his and then go finish Basil's and then finish Sages, too! Little Goof!
Jack with his new little monkey and his trapper hat,.
[/IMG]
[/IMG]
Last edited by a moderator: