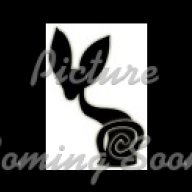 Joined

Apr 27, 2010
Messages

1,068
Points

0
So I put Jess's vacuum up on craigslist and I got this email from this lady that need a vacuum but didnt have any money. She was willing to trade anything she had because she needed it so bad. We decided to give it to her and then she told me that in October she had lost her 14 year old son and her 22 year old brother in a car accident and how her life had fallen apart and her 9 year old was distraught over the whole thing. She said her life was finally looking up because she just got a new place to live and a new job and she was starting to recover. She said I was just another blessing in her life. I gave her son some things that Jess was going to throw away and she was so grateful.
Then today I get on here and see that Piglet got a new brother and I was so jealous. Her mom posted an add to a cat in Thorton, CO and I clicked on it to just look and the add was gone but the site suggested that I look at some other cats. I scrolled down and I found the add for a Sphynx in Aurora, CO and I emailed the lady. It seems to all be falling into place and I might get to bring him home next week. The adoption will be pending Johnny excepting him of course but I am so overwhelmed and excited. She is asking a small rehoming fee that might be negotiable.
Is it Karma? I just gave a lady a free vacuum!