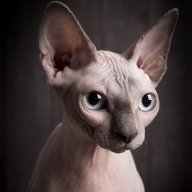 V.I.P Lairian
V.I.P Lairian
Joined

Dec 8, 2016
Messages

1,718
Points

218
Back to needing a new kibble, all because of the vet suggested food.
So, Astrid has lost the weight she had to use, so the vet (different than the one I normally see, this one is the cat-specific one) suggested I feed a Science Diet dental care t/d along with the RC calorie control... I told her I don't want jaws on these foods because I would rather she eat something not primarily made of filler. I raised the issue of cats getting sick from it and what not and just not being into feeding my baby filler. They said this is what they feed their cats and they do great. So because I am obviously not a vet, I said sure, why not. I haven't found another food for her to eat yet. Plus I was the getting the "what do you know you're 19 years old" eyes, "of course you believe what you see online".
So the diet is 50/50 ratio, which I built up to. WELL on the first night of 50/50 Astrid was SO sick. I cannot count how many times I cleaned regurgitated food and vomit off of my floor and my bed, she was puking every 2 hours for two days. Needless to say, I am not happy because I should have listened to my gut.
But after all of this, she now can't/won't eat her original kibble. Jaws-eats-all-in-sight has been eating half the pieces of kibble and leaving the rest. The SD kibble was HUGE. Easily the size of a thumbnail. So I think that hurt her mouth. She did not look comfortable eating now that I think of it. But a couple pieces here and there must not have had any effect.
This may be TMI but when she puked the Science Diet came back up SO expanded, easily 3 times of what she consumed. So no wonder it came back up!!! there was no room in her poor belly!!!!!


Thankfully, all is well and she is on the mend today. She is now only eating her Stella and Chewy wet food which is good. Now hopefully it stays down!
Still have to go in to see the vet, and return the food. No way is she EVER eating that again. I do not care if it was a fluke lol it's not happening.


SOOOO with that being said, I need a grain inclusive kibble for my little monster. Grain inclusive just works better for her, so don't need the "Cats don't need grain". My cat does XD unless I want to deal with loose poop and stink!