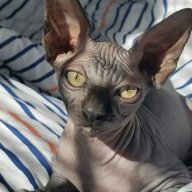 Joined

Aug 23, 2016
Messages

294
Points

81
Hi guys!

Tut turned 1 recently so I have gotten him new dry food. I want to keep him at a healthy weight. I feed him 3oz wet food by Natures Balance (pouches) in the morning and leave 1/4 cup dry Blue Basics simple ingredient indoor cat food (duck and potato/open fed) and then another 3oz pouch. all together that is 75kcal + 95kcal + 75kcal = 245kcal

my problem is he is coming off of kitten food which i know is more calorie rich.
Natures balance kitten wet food - 118kcal
royal canin kitten - 184kcal / half cup (open fed)
natures balance pouch- 75kcal = 377kcal
*he never ate all his dry food daily*

Tut is acting so hungry! Its pulling at my heart strings. haha
Any I doing this right Lair Family? any suggestions or comment?