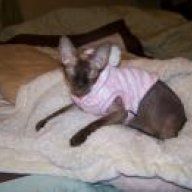 Senior Lairian
Senior Lairian
Joined

Apr 7, 2009
Messages

893
Points

88
Since I've become a member of the litter scoopers again the thing I HATE is where to put the dirty litter. It has become such a pain as well as stinky problem for me. I hate collecting all those plastic bags just so I can throw it away and to try to help the environment I will keep using the same bag over and over again until it is completely full. You can imagine the smell and nasty of this. This weekend I found my new best friend. It is the diaper genie for kitty litter. It is called the

Petmate LitterLocker Plus Cat Litter Disposal System

No more collecting plastic bags and ruining our environment. And best all no more stinky litter!