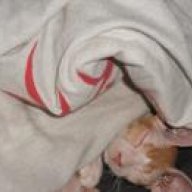 Joined

Oct 18, 2010
Messages

846
Points

0
Firstly I wanted to say a massive thank you to the admins of this site.... I was given my name (Kat) years ago by people who knew me, at the time I was the youngest registered breeder with the GCCF (aged 13) and I grew up in a house with anything upto 40 cats at a time! I started working at our local vets aged 11 and now, aged 36 and a qualified veterinary nurse here in the UK, every one knows me as the person to call if they have any 'cat issues'!!
This site allows me to unleash my inner 'mad cat woman' without anyone thinking I am too strange! I am a massive fan of all our feline friends, furry and otherwise!
Also, I wanted to say an equally massive thank you to my husband... he had never had cats before, but when I moved in he got 3 furry babies to deal with and has always been nothing short of brilliant to them and my panderings to them! We have been married 7 1/2 years and when I read him out some of the posts her about intolerant boyfriends his response is always 'get rid of the man!' My birthday present to him 2 1/2 years ago was Lazarus, our black and white DSH!
Anyways, just wanted to say a massive thank you to everyone involved in the site and everyone who tolerates my insane ramblings about my 'baby boys'! I almost feel normal here!!!