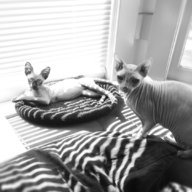 Joined

Mar 8, 2012
Messages

50
Points

34
Math seemed fine yesterday until he started violently throwing up around noon, which triggered him to collapse and start uncontrollably pooping.
We ran to the emergency vet and they told us his HCM had probably advanced into congestive heart failure and this was a "near death experience" he had survived. We were there for hours as they ran tests, he got some pills and we went home together. He hide all day in his bed, our younger sphynx Carbon is clearly upset too and we both keep checking on Math through out the evening.
This morning the vet called and said they got a second opinion on his x-rays and now it looks like he might have cancer in the abdomen (hard to tell because on the x-ray there is too much fluid in the region to see). We are in the vets office now, more tests.
This is his last picture before he started getting symptoms, and more can be @mathandcarboncat on IG.
This is really hard, you don't want him to suffer but you also don't know how bad he feels because cats are good at hiding that sort of thing.