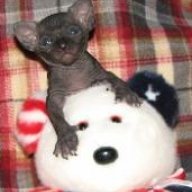 Senior Lairian
Senior Lairian
Joined

Jan 14, 2010
Messages

721
Points

0
Just being on this site has made me more leery of breeders and their scam practices.. Not the good ones, but the ones who say, "Oh, I give this guarantee" and yet- you never SIGN anything for it! Or they send you a contract and then never send it back to you signed! Etc, etc, etc...

I just had a lady ask me about a breeder and I've never heard of them- they told her that the vet can check for HCM at 12 weeks! Why the heck doesn't MY vet do that??? Yeah, well, probably because you can't check for HCM at 12 weeks! Gah! Maybe the lady misunderstood the breeder, but the breeder should have been very clear. The website mentions NOTHING about health problems within the breed (I think all sites should openly discuss it so owners know what to watch out for)...

Bothers me soo much!