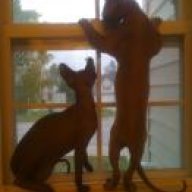 Senior Lairian
Senior Lairian
Joined

Jul 5, 2009
Messages

328
Points

0
My husband found a new job (thank u God!!

) and we are moving 4 hours south. My 2 Sphynx boys are great in the car & actually enjoy riding and looking out the window. My furry guy, however, HATES to be in the car. Our old vet was 20 minutes away & he "yelled" the whole time...he would never calm down. Same with the new vet that is only 10 min away.

I have seen lots of tips about blankets & carriers, but does anyone know what I can do for my poor guy? I'm afraid he's going to make himself sick. His hair falls out in clumps when we got to the vet- he'll look like a sphnx after 4 hours! I'm also afraid he'll frighten the other cats
please help if you have experienced this before!!