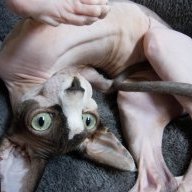 Senior Lairian
Senior Lairian
Joined

Jul 28, 2014
Messages

449
Points

183
Hi everyone, I'm hoping you can help me figure out what might be going on with one of Mulder's ears! His right one, specifically.
It's quite strange really...his left ear, I think I've maybe cleaned twice since I got him. It is always sparkling clean, no joke! I thought maybe it was Ponzu cleaning it, but why wouldn't she clean both? Also she was gone all day yesterday and still not a speck of wax.
Now his right ear, that's a different story. The past couple weeks, I'm cleaning it every couple days. Here are some pics:
The shiny and clean left ear
The right ear, after I had just cleaned it.
I took those two pics on Tuesday night
Now see below, the right ear early this morning (it looked like this last night too, so just 2 days later). It's already flecked with wax. I know when I go to clean it tonight I'm going to have a couple very dirty Q-tips. I wasn't intending on using this pic for this question but I was looking at it and noticed how dirty his ear already was.
So I'm not sure exactly what's going on. Is this normal? Can one ear just produce more wax than the other? I know people here generally clean ears 2 times a week, so maybe that's accurate (the right ear gets cleaned about 3 times a week now). I use Zymox for the ear cleanser, no particular reason beyond that we already had it when we got Mulder. Usually I soak a cotton pad with it and swipe around a couple times just to get the surface stuff off, then I soak Q-tips with it and use those to get the nooks and crannies.
I feel like his right ear wasn't always this bad though, but we've had no changes to anything food/litter wise :/
Any tips or insights would be much appreciated. Is it possible the Zymox is drying his ear out too much, thus causing more wax to be produced?