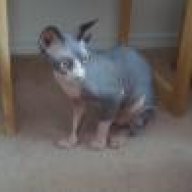 V.I.P Lairian
V.I.P Lairian
Joined

Jun 14, 2009
Messages

4,564
Points

0

Coco my siamese mix just turned 18.
I was told in Jan 2009 that she had 5 months to live because of her CRF.
She also has high bp.asthma,heart murmur,arthritis,bladder problems and allergies.
I dread the day I lose her.
She got very sick when she was 9 and I was told to have her pts.
They thought she had diabetes but it was fia with severe anemia and infections.
I am so glad that she is 18 now.