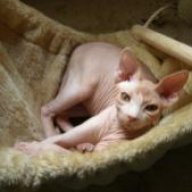 Joined

Jan 24, 2010
Messages

190
Points

66
my litter of orphans... *pics added!*

yesterday, i heard a knock on my door. i opened it and the girl from across the street is standing there with one of her (brothers? friends?). she told me they have these kittens to sell, and wanted to know if i wanted to buy one. i told her i can't. i have two of my own (not to mention the other animals), and my husband would kill me.

a little bit later, we were out in the yard cleaning up all the branches and leaves from the last big storm. i heard a chorus of kitten cries. you know the cries, those "i need something! help!" cries. i looked across the street to their house, and sure enough.... there are tiny little blobs sitting on a box on their porch crying for all they were worth. it looked like mama was staring out at them from the window. it was too far away (and i need new glasses), so i couldn't get a good look, or even tell how many there really were. going off the size of the blobs and the pitch of the cries, i knew they were way too young to be away from mama. my heart just broke!

today i went to return these people's wayward puppy (let me tell you, i love my neighbors!). against my better judgment, i looked in the box....

they are so tiny. maybe three weeks old (i'm guessing, it's been a long time since i've been around kittens this little). there was a bowl of dirty water, so big it's amazing the kittens didn't drown in it, and a handful of dog kibble (kibbles n bits type). there were flies buzzing around and a couple big beetle bugs in the box. i asked where mama was, and it turns out she was hit by a car two days ago (it was their chihuahua i'd seen in the window). i came home and told david about it. he just sighed and said "go get them." i have the bestest hubby ever! the guy asked me, "you're gonna take them all?! how much you gonna give me for them?" i told him i wasn't going to give him a dime. i was going to take the kittens and keep them from starving to death, then help them find homes. he said, "oh, i was hoping to get some money for them." i told him i wasn't paying for them. he could give them to me, or i could call animal control and report them for animal cruelty. needless to say, i left with the kittens.

there's six. they took to a bottle with no problem, but also loved tracking through canned food thoroughly thinned with kmr. poor things are so little! i need to brush up on my orphan raising- it's been a long time. i need to pick up a postal scale tomorrow so i can keep track of their weight.
Last edited: