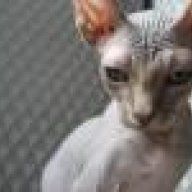 Joined

Apr 22, 2009
Messages

70
Points

24
My first sphynx and most loved animal was euthanized this morning. He had been acting a bit lazy this last week.. I thought it was the cold weather. The poor thing then started to get an evident belly with diarrhea and after I called the breeder- I was informed that his brother had already passed away from FIP.
It was so hard to put him down.. He wouldn't stop purring and cuddling with me through the night. Unfortunately the wet symptoms of FIP were getting too hard to bear and I had to let him go
The breeder is refusing to give me a refund of money. I really hope to get a new sphynx later on.. They are truly amazing creatures and even though I didn't get to keep Harry for long- I feel very lucky to have gotten to be his human for the short life he did live.
I have another cat in the household and I'm crossing my fingers she is OK. She is a beautiful devon rex that is a little over a year old. Harry has been with us for a month with FIP and she hasn't shown any symptoms of having anything.. In fact in the recent weeks she has been more energetic than ever. I'm just concerned with getting a new sphynx baby and all of a sudden having the devon come down with FIP and infect him...?
Harry was such a loving cat.. and he continued to give me kisses and cuddle with me through his worst times. I will miss him tremendously