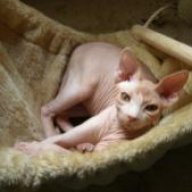 Joined

Jan 24, 2010
Messages

190
Points

66
i never thought i'd have kids. and i most CERTAINLY never thought that i would be so thoroughly defined by a child. but i am. so, let me introduce you to ariana hailey. i can't believe she is almost two!
with river, her big sister
with watson, her little brother
my silly goose
more hiking. she's dead asleep in her carrier
hiking in alaska
her beautiful eyes. i am half native american, and ariana is the first baby EVER in my family with light colored eyes
the end!