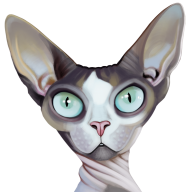 Administrator
Staff member
Joined

Jan 13, 2009
Messages

23,583
Points

643
So you ask yourself,

Why is my sphynx so dirty all the time, one day after bathing he is a filthy mess again! Sometimes my sphynx even becomes a bit "smelly." Have you noticed that your sphynx favorite napping spot is brown and oily looking? Have you stroked your sphynx back and found an oily residue left on your fingers?

Well most likely the cause is known as sebum from the sebaceous gland. What is sebum you ask? Sebum is an oily substance that is secreted by the sebaceous glands in your sphynx skin.

All mammals have sebaceous glands that produce this oily type substance. Sebum's main purpose is to make your sphynx skin waterproof and to protect your kitty from excessive drying of the skin. When this process works correctly, the skin is moisturized and remains healthy for your sphynx cat. If not enough sebum is produced, the skin becomes dry and flakey. However if too much sebum is produced the skin becomes extremely oily, a condition known as seborrhea.

An excess of sebum can make the skin too oily, and your sphynx skin can begin to smell when broken down by bacteria outside of his body. The sphynx sebaceous glands are usually attached to hair follicles, yes, your sphynx does have fine hair follicles believe it or not, but the glands can also exist in some hairless areas of your sphynx as well, such as the eyelids, where sebum is added to tears to keep your kitty's eyes moist.

There are a number of disorders associated with sebum and the sebaceous glands in humans and sphynx. A blocked gland can result in a sebaceous cyst, which fills with sebum and can become infected. Sebaceous cysts usually require no treatment, but they may have to be removed through surgery if they become abnormally large or painful to your pet. Excessive sebum can also cause mild to moderate acne which most of us are very familiar with in our sphynx breed.

Giving your sphynx a bath every other week can help fight bacteria which can build on her skin from excessive oily sebum build up. Bathing too much can cause your sphynx skin to become too dry and leave too little protectant and believe it or not can cause more oily skin in some cases as well. We recommend bathing every other week if possible to be safe. Always check with your vet when in doubt.

If you are looking to get a sphynx cat as a pet, remember, the trade-off with no hair due to shedding is the oily brown residue, sebum, left on clothing, bedding, light colored furniture, carpets and counter tops to window sills where they hang out to bask in the sun. generally if cleaned quickly it will come out, if left on certain items for long periods of time - it could stain permanently.
Last edited: