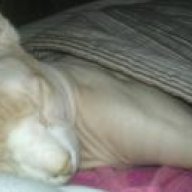 V.I.P Lairian
V.I.P Lairian
Joined

Apr 26, 2010
Messages

1,029
Points

188
So i was kinda keeping an eye out, not really looking for a new naked baby.... WELL.. my Bea's old owner emailed me saying her current kitty, Bea's "sister" wasn't adjusting well to their new baby and she needs to rehome her.... well hello, how could i pass up the chance to reunite the two!!
So.. the good fiancee i am.. i waited until after my fiancee came out of surgery, nice and high on meds and asked very nicely if i could get another kitty
of course he said yes!

haha, thankfully he is just as excited as i am!!!!
I get to pick her up asap!!! so when John get out of the hospital we'll arrange a pick up!
I AM SO HAPPY!!!!!
Pictures will definitely be up ASAP!