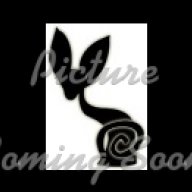 Joined

Apr 3, 2010
Messages

1,307
Points

0
So on Monday at 3:52pm, my new Sphynx girl will be arriving at the airport! She is a seal point tortie and she is 8 months old. She is absolutely gorgeous and I can't wait another second for her to get here! The breeders have been awesome and they have chosen us to be her forever family!! I know it was difficult for them to let her go and they loved and cared for her very much. They had 3 little boys available that were born in January and I had my eye on a little mackerel tabby but I saw this picture of the girl for a September litter that they had kept, I knew that was MY girl! I kept going back and forth between the boy and the girl and something just kept drawing me back to her. She was meant to come home with us!!!

I hope Gable is a gentleman when he meets her. I want them to enjoy each other's company. He really needs a friend to play with. Maybe now he will stop standing at the door screen and pathetically yowling to the cats, squirrels, etc that he sees outside.

I am just so excited!! Two more sleeps!!!! Two more!!!!