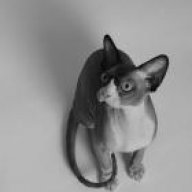 Joined

Aug 25, 2010
Messages

695
Points

0
Niles had his first photo shoot yesterday. Our favorite little pet store that Niles and I go to was having a photographer come for the afternoon. I thought it would go smoothly since Niles likes this store and it is familiar.
Boy was I wrong!! He kept darting away. I must have run after him at least a dozen times. The photographer was laying on the ground to take pics so Niles would either going jumping over him or squeeze through two bookcases. As Niles would run I'd run after him leaping over the photographers legs and up through the store. The store owner, and a client who happened to be in the store would help me catch him in his mad dashes.
Anyway here are the unedited pics. The password is bark. He got some great shots and I died laughing at some of his expressions last night.
Ron Bork Photography of Tallahassee | SmugMug
Scroll to bottom and you'll see his link. The password is "bark"