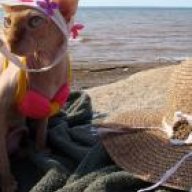 V.I.P Lairian
V.I.P Lairian
Joined

Jan 17, 2010
Messages

1,659
Points

238
Hey all,
We are all fine, but totalled our car tonight and I had to post on here because I USED to sit in the front passenger seat with Nofuratu sleeping on my lap....and I DONT DO THAT anymore (after hearing a friend's dog was killed by an airbag in a mild fender bender).
I have to say this:
If Nofuratu was on my lap in the front passenger seat during this accident he would absolutely be DEAD AS A DOORNAIL!! The front airbags went off and he would have been between my body slamming into the airbag.
We were only 1 minute from our home!
Slippy roads and someone pulled out in front of us....we were doing about 70km/hr and after hitting the oncoming car we went into a deep ditch.
Nofuratu was on my lap in the back seat, but SAFE INSIDE HIS SLEEPY POD!!
We posted about Sleepy Pods in another thread...they are made from ballistic grade luggage material and are crash tested! I bought one for Nofuratu, despite the high cost...because I am a bad driver and because he is in the car with me 5days/wk.
I am so glad we had the sleepy pod! and that it worked!
My spouse was driving this time...LOL...not me, and the other driver is also fine.
Nofuratu would like to remind everyone that he is a professional adventurecat...so there is no need to be alarmed. He's used to doing all his own stunts on his blog...
Last edited by a moderator: