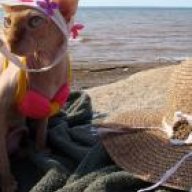 V.I.P Lairian
V.I.P Lairian
Joined

Jan 17, 2010
Messages

1,659
Points

238
Hey everyone,
Nofuratu's latest blog post is up!
Its entitled "Cat in a Hat goes Secret Santa Shopping". It mentions Sphynxlair and a few other Sphynx he has met on here that are hat crazy.
It also shows what he got his secret santa...but doesnt say who it is.
Feel free to leave comments on HIS BLOG lol....makes him feel famous!


Enjoy!

Sorry its been awhile since he posted...Ive been sick all summer. I have severe depression and my meds stopped working this year....Nofuratu and I also opened up our own charity thrift store....and it has sucked most of the life out of me!
You know you are depressed when you cant even blog on behalf of your Sphynx....
Last edited by a moderator: