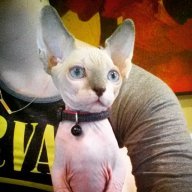 Joined

May 13, 2015
Messages

86
Points

54
Hi all
I'm Kelsey and I just got my baby girl Ophelia this past Sunday. I am SO in love with her! I've seen a lot of people posting about kittens getting used to dogs. I have two Shih Tzu/Yorkie mixes, and they are veryyyy curious about her. And as small as they are, they seem huge compared to my tiny kitten! Anyway, I've been trying to keep them together for short periods of time but it's very difficult because they bark and whine to get into my room when I lock them out. Even after a few days she's gotten better with them though, no more hissing or hiding under the bed. Again, I don't keep them together for too long, but oddly enough my dogs now want to sleep with me (which they never do), and thankfully they won't bother her at night when it's time to go to sleep. I brought her upstairs a couple times and let her roam, they followed her, and she started to get very shaky. I'm assuming that's because she was nervous? Everyone says it takes a few weeks for them to get completely adjusted so I'm hoping that will happen because everyone in my house is very cranky with these noisy dogs!
Some of my questions:
- Soap suggestions for bath? Could I use baby soap?
- How do you clean the gunk out of her eyes without hurting her? (Wet Q-Tip?)
- Claw cleaning: I can see the dirt caked at the bottom of her claws, which I could probably scrape if I have long nails but I don't. Tips?
- She loves to try to chew on my fingers - I got her a teething toy but she doesn't like it so much. Anyone have any kitties who like something in particular?
Any other tips or suggestions for a new cat/sphynx owner are greatly appreciated!