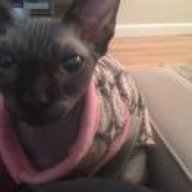 V.I.P Lairian
V.I.P Lairian
Joined

Jul 25, 2009
Messages

1,242
Points

158
By now, my whole fam thinks I'm nuts since it seems I bring Soph to the vet at the drop of a hat. Part of me just still feels something might not be right. Most of the time she acts fine but sometimes she's just so strange!

Basically, we have been to the vet every two weeks since I got her in Oct. Her last visit was on 12/1. I've pretty much chronicled her visits in my Diary section of the site. About a month back I thought she might have an URI since she was sneezing and doing a cough/hack thing. It wasn't very bad because her nose wasn't runny but her eyes were a bit watery and red. The vet sent me home with erythromycin for her eyes and viralys gel and continue her Tresaderm ear drops for her bacteria she had in there. So we did all this and she went back 2 weeks later on Dec 1st and the vet said she was fine and he would see her next year for a regular checkup. I told the vet she was still sneezing/cough/hacking once per day that I observed but he was not concerned and said use the viralys gel til its gone. So we've been doing that. She sneezes maybe once per day and cough/hack maybe every other day. Sometimes I think her eyes seem a little red when I check them and sometimes they aren't. Her breath is stinky which from what I googled may indicate a URI since she's a kitten and has no rotten teeth.

Then, there is the way she acts. I've been staying at my moms for a few weeks and she is home with Soph during the day. Sophie walks around on the ledge of a loft usually with no problem. Well, last week she had a fall. She fell probably 15 feet onto a speaker with pictures on it. Not sure exactly how she landed but she knocked over the pictures then dashed to hide under my bed. She seems completely unharmed since she plays like normal. I poked, prodded and squeezed her entire body and she has no sign of discomfort, bruising, nothing. She walks, runs, jumps, plays all the same as before. But sometimes, not every time, when I pick her up she cries a horrible cry that seems like I'm hurting her. The past two weeks she has been horrible with bath time. Not so much in the bath but picking her up out of the bath then clipping her nails has been the WORST it ever has been. She cries and cries then does this jungle cat scream like I'm trying to kill her and runs off. I let her cool off and hide and try again, same thing. She's wrapped up in her towel like a kitty burrito and even if I'm not doing anything just cries. I couldn't even get her back paws trimmed today it was so horrible. She also hisses at other people for no reason. She has done this to my dad a few times this week. She sits on his lap and almost falls asleep then has a hissing fit and runs off. No warning, nothing and it seems frantic.

Well if you made it this far in my rambling, thank you! Sorry so long, I just can't make sense of this. Is it related, or is it not. Is it a basis for another vet visit? I mean, her breath is bad but her sneezing/coughing is sporadic maybe the lysine is keeping it at bay but her immune system isn't totally getting rid of it?