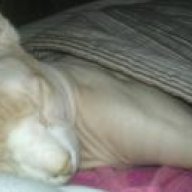 V.I.P Lairian
V.I.P Lairian
Joined

Apr 26, 2010
Messages

1,029
Points

188
Hope i'm not crossing any lines with this awareness...just a spot close to home
I support and understand Breast Cancer Awareness... but please let's not forget that October is also Domestic Violence Awareness Month. So in addition to wearing the pink and supporting the Ta-Ta's let's also wear purple and support the true meaning of LOVE.
I'm an advocate for Domestic Violence Awareness. My mother, sister and brother are survivors of DV. If you know someone or are yourself a victim, please seek help.
Some alarming DV stat's:
* Approximately 1.3 million women and 835,000 men are physically assaulted by an intimate partner annually in the United States. (1)
* Intimate partner violence made up 20% of all nonfatal violent crime experienced by women in 2001. (2)
* In 2000, 1,247 women and 440 men were killed by an intimate partner. In recent years, an intimate partner killed approximately 33% of female murder victims and 4% of male murder victims. (3)
According to the U.S. Department of Justice, between 1998 and 2002:
* Of the almost 3.5 million violent crimes committed against family members, 49% of these were crimes against spouses.
* 84% of spouse abuse victims were females, and 86% of victims of dating partner abuse at were female.
* Males were 83% of spouse murderers and 75% of dating partner murderers
* 50% of offenders in state prison for spousal abuse had killed their victims. Wives were more likely than husbands to be killed by their spouses: wives were about half of all spouses in the population in 2002, but 81% of all persons killed by their spouse. (4)
From National Coalition Against Domestic Violence:
*One in every four women will experience domestic violence in her lifetime.
*85% of domestic violence victims are women.
*Historically, females have been most often victimized by someone they knew. *Females who are 20-24 years of age are at the greatest risk of nonfatal intimate partner violence.
*Most cases of domestic violence are never reported to the police.
For more information or to get help, please call:
TTHEHE NNATIONALATIONAL DDOMESTICOMESTIC VVIOLENCEIOLENCE HHOTLINEOTLINE at 1-800-799-7233
THE NATIONAL SEXUAL ASSAULT HOTLINE AT 1-800-656-4673
THE NATIONAL TEEN DATING ABUSE HOTLINE AT 1-866-331-9474
(1)Patricia Tjaden & Nancy Thoennes, U.S. Dep't of Just., NCJ 183781, Full Report of the Prevalence, Incidence, and Consequences of Intimate Partner Violence Against Women: Findings from the National Violence Against Women Survey, at iv (2000), available at
Full Report of the Prevalence, Incidence, and Consequences of Violence Against Women: Findings From the National Violence Against Women Survey | National Institute of Justice

(2) Callie Marie Rennison, U.S. Dep't of Just., NCJ 197838, Bureau of Justice Statistics Crime Data Brief: Intimate Partner Violence, 1993-2001, at 1 (2003), available at [url]http://www.ojp.usdoj.gov/bjs/pub/pdf/ipv01.pdf

(3) Callie Marie Rennison, U.S. Dep't of Just., NCJ 197838, Bureau of Justice Statistics Crime Data Brief: Intimate Partner Violence, 1993-2001, at 1 (2003), available at [url]http://www.ojp.usdoj.gov/bjs/pub/pdf/ipv01.pdf

(4) Matthew R. Durose et al., U.S. Dep't of Just., NCJ 207846, Bureau of Justice Statistics, Family Violence Statistics: Including Statistics on Strangers and Acquaintances, at 31-32 (2005), available at [url]http://www.ojp.usdoj.gov/bjs/pub/pdf/fvs.pdf