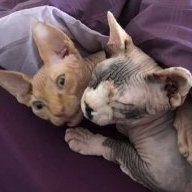 V.I.P Lairian
V.I.P Lairian
Joined

Sep 26, 2017
Messages

1,663
Points

238
hi there , this evening ( well it was yesterday now ah ha ) Cleo was playing she always as like a mad 10 minuets playing . Were she can get a bit erratic lol ( our children as babies always had a time were I could.nt passify them usually dinner time in the evening )
Any way back to the point of the post !
Cleo was running round like a mad woman ! She jumped off her dad onto me then she went onto my shoulder , up to my head ( she wanted a little chew of my hair )
She only went and slipped , her instinct was to put her claws out to grasp something and it was my blinking chin !! ( as if it ain't bad enough I'm growing a beard ah ha , it's not that bad yet I'm joking )
So as she slips her claws went into my chin
I promise you it actually dripped blood and it did hurt !
My poor baby was a bit startled as if she was saying blinking heck mom what's happened to you !!
So I just put a tissue on it and cuddled her she did look like WHAT ON EARTH JUST HAPPENED MOMMA ???
She was playing it was a genuine accident and she used her instinct to put her claws
Good job her nails were trimmed a few days ago
Hugs
Anita & Cleo xxx❤️❤️❤️
Now all say awwwwwwe to make me feel better ah ha