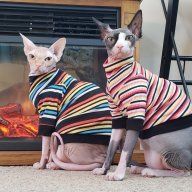 Joined

Jan 3, 2019
Messages

126
Points

81
Hello lair folks,

Our boy really likes to lay in the sun all day (as I am sure you ALL experience). Watching birds is a part of it, but he will find every sunbeam and lay in it as long as possible. A month or so ago, he developed a burn on his little head from the exposure. We put a bit of sun screen just on his head, but we don't want to get in a habit of doing that to avoid him attempting to eat it.

What do you folks do? Use mostly clothes? Should we put the sunscreen on? I really don't want to restrict his window time because it bring him so much joy. Maybe it's okay/normal for him to be tan. I will get a close-up shot of his head later today so you can see. His head is literally dark brown.

Thanks for your thoughts!