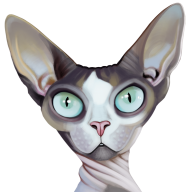 Administrator
Staff member
Joined

Jan 13, 2009
Messages

23,624
Points

643
Sphynxlair's foundation was built on there being too many pet sites and forums out there with information, information, information. Yeah, we have information here, but that's not what we were looking for as Sphynx cat owners. Shoot, If I want information on a cat I can just google that kind of stuff! We just wanted a place to go and share real Sphynx owners pictures, videos and just everyday stories whether happy or sad about our Sphynx cats with other sphynx owners and meet new friends! Are we the only people out here that are crazy and enjoy and love our Sphynx cats to the point of insanity? Apparently not! Well, this is why Sphynxlair was created, for crazy sphynx cats and their owners to gather in one place! You can't google that!

Sphynxlair Administrators are not Veterinarians and nor do we claim to be. We will not give you what we believe to be professional advice but instead insist you see your Veterinarian if ever your pets health is in question. Our mission is to try to help you as experienced Sphynx owners and breeders in your decisions you make for your pets, not scorn or judge you for them, but to encourage what you believe in which is your right as a pet owner. We do not categorize or cater to specific types of people here on our forum. Our forum is open to everyone! We will not and do not focus on a particular persons beliefs, so anyone is welcome to join us here at Sphynxlair, even if you do not have a Sphynx!

We very rarely have had problems with members not getting along here on Sphynxlair, but I'm sorry to say as with any forum you will get the 1 or 2 radicals or extremist who will find their way on forums and try to ruin what so many people enjoy here on Sphynxlair,"happiness." It's unfortunate their are people who will hurt you because of their beliefs which they believe is the only "righteous" way. This is one of the biggest reasons we are so successful here at Sphynxlair, we will not and do not allow or tolerate radicals or extremists here and you will be banned. Your opinions are welcome, but if you try to harm or hurt members feelings for their opinions or your personal beliefs on our forum, or personally attack privately as radicals or extremists you will be banned. So we ask all members please, PLEASE do not share personal information or emails with other members until you personally feel comfortable doing so. Our first and foremost promise is to keep Sphynxlair and it's members safe and happy for all! This is what makes Sphynxlair different, and we have been told hundreds of times how special and well run this forum is. There are hundreds of forums that will tell you how they think you should raise or care for your sphynx, we do not. If we find that a member or outside source is labeling, bashing, or trash talking any of our members or us, that member will be banned from the community.

You cannot advertise for free on Sphynxlair. Sphynxlair was not built overnight nor is it a "free" forum script off of the net. It is a custom built site with a lot of thought and time invested by it's administrators and we have invested thousands of dollars in our site that we all enjoy personally and mentally on a day to day basis and do ask a small fee for advertising which goes directly back into the site. We also except donations from our members towards helping us better the site and it is greatly appreciated, thank you! We will not ask you to donate for causes that we solely believe in, because even though it may not go directly to us, it would not be fair to ask this of our members to benefit for our own causes we believe in. But if you had a cause you would like to donate to we would gladly try to help you with it. We frequently have contests and many of our prizes include items with our logos. We are proud of our site and would love dedicated members to enjoy flaunting our logo in public! After all what a cool looking cat and saying we have! Shucks, we even have two members tattoo our Sphynxlair logo on their bodies! Oh, and we are experienced Sphynx breeders so our information comes directly from a breeders perspective and experience not just a Sphynx cat owner. We have raised our Sphynx cats since they were kittens so we have personal experience from kittens to mature Sphynx cats. The administrators have been together for 19 years and have two children we raised and they are still alive, so we know a thing or two about life! LoL. Welcome to the friendliest, safest and most honest place in the world for you and your Sphynx cat!
Last edited: