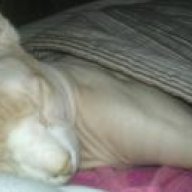 V.I.P Lairian
V.I.P Lairian
Joined

Apr 26, 2010
Messages

1,029
Points

188
Bronxe has started peeing/spraying in the tub! lol thank god it's there and no where else!
My fiancee was in a bad auto accident about 4 years ago. so he uses a shower chair in the shower. well we bought 2 at the same time and ended up storing one in the garage for a while. anyway, recently brought that one in and he started doing it! John thinks it's because he may smell wild animals (um ew) even thought we've cleaned it.
We sorta laugh because it's kinda funny to go into the bathroom and see it... And i know if isn't because he's sick.. because i see him still using the pan.
so it's either a- he smells the normal bathroom smells (which i heard animals do upon occasion and go potty on the floor in the bathroom) or 2- he smelling animals on the chair. ... or maybe there's a 3- and he figures the bathroom is closer then his litter pan LOL
ooh, bronxe- you make me laugh