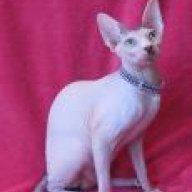 V.I.P Lairian
V.I.P Lairian
Joined

Sep 16, 2010
Messages

1,673
Points

0
Ok so I just saw this ad in the local ebay classifieds and it breaks my heart to see people looking for a "Sphynx Bargain"
Details forsphynx kittens wanted
Address:Hickman, CA 95323 (map) Date Posted:10/02/10
Age:BabyDescription
i am looking to own a young sphyx...coatless no fur what so ever...100% bald...will to pay no more than $500
Ad ID: 6311944
Read more:
sphynx kittens wanted | Hickman | eBay Classifieds (Kijiji) | 6311944
I hope the ad showed up above. I sent this person an email saying : Sphynx are a very special and expensive breed. If you can't afford to buy one at a reasonable price, than you can't afford to own one. I can just see them bargain hunting like it's just a thing they gotta have not a loving companion they want to share their life with.