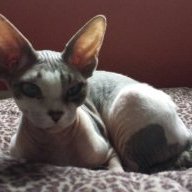 Joined

Apr 23, 2012
Messages

12,476
Points

653
this morning I was walking Sam and my neighbor shouted across the pond for help -
Her sweet boy Pete was having a seizure
I have known this kitty for years - every morning he would sit in her pool Lania (like his own big catio with his two siblings )
and watch me walk the dogs along the pond -
I rushed over.
Pete was apparantly seizing for more than 5 minutes-
I gave him gentle smooches amd
He was immediately taken to the emergency vet
(He was on seizure meds for two years and this was his first incident in two years ..)
They stopped the seizure but the neurological damage was too much
To be their voice when they cannot speak is truly the hardest part of the journey
Pete got his wings today the arms of his beloved mum.
She is battling cancer- , living alone with her 3 kitties her husband passed not too long ago and
Her cancer returned . she just had chemo the other day -
My heart breaks for her -
She is one of the strongest woman I know -
(Last month after chemo she was even trying to put up her hurricane shutters by her self for Irma on her bday -)
Please say an extra prayer for Peace for my Friend Barb during this heartfelt time .
Pete was such a good boy - I will miss seeing that big ole white n grey boy look on after us on our walks
Fly free sweet boy
I know the others are waiting for you just on the other side of the bridge