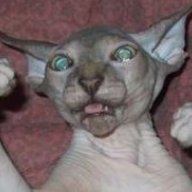 V.I.P Lairian
V.I.P Lairian
Joined

Feb 26, 2009
Messages

1,467
Points

188
I was goofing around with ButterBall and snapped a couple of pics. He absolutely drove me nuts this morning. If I didn't know any better I'd think he was on drugs. Sooooo hyper.
He looks like Jack Nicholson as the Joker.
It's so hard to get an action pic. I tried getting a picture of Ball in mid-air. I managed to capture him in mid-air, he just doesn't have a head.