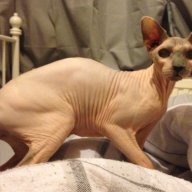 Joined

Jun 28, 2015
Messages

7
Points

4
Hi there everyone, I'm really new to this but I have a bit of a question about my 4 year old baby Danzig. About a week ago he was heaving and was sick, only thing that came up was some food he had eaten. I would assume if this was a normal cat the heaving would be because of a hairball? But since he has no fur, maybe he had eaten to much? I'm not sure why he was sick. But after it he ate fine and continued to watch the birds out the window. This morning when we both came down, he started heaving again, this time cos he hadn't eaten all that came up was liquid. He heaved twice but only liquid. He again seemed okay afterwards and ate some food and cuddeled up on the couch. Is this normal? Hes never done this before except when he was naughty and ate some paper string. Its really scary cos his wholw stomach contacts inwards. He seems okay but I panic. Is this a natrual cat thing hair or no hair? I'm a bit worried and not sure if to take him to the vet.
I have one other question, he has really really bad breath. He eats dry food and has never taken to wet food. Its like he has a build up round his gums (not on all his teeth) but his gums seem a little red. He doesnt seem fazed but to curb any future problems I was thinking of getting his teeth cleaned. The vet said he would need to be sedated first. I read somewhere a while ago that Sphynx cats react a bit different to some injections than other cats. ( I dont think my vet knows enough about Sphinxes for me to ask them) I was wondering if that was true, and if so, what sedatives should I not allow my vet to use? Any advice with any of thid would be really appreciated.
Thank you all so much.
Lauren.