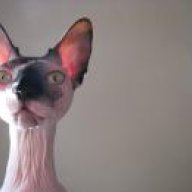 Joined

Mar 6, 2010
Messages

1,229
Points

0
After Mike/Buterball's post earlier today, I thought I'd check out Kijiji (our version of craigslist) and I found this little guy...so I have emailed the seller...and this is what I asked...can anyone think of anything else I should ask for / about? (PS after I reread the article I notice the "neutered" part...D'OH!!!
(and btw...all of these helpful questions I learned to ask because of all of you out there and your wonderful advice)
here is the link to the posting...
Pure Bred Sphynx Kitten - Toronto Cats & Kittens For Sale - Kijiji Toronto
My email...
Hi my name is Holly, and I was wondering if I could get some more infor on Hank.
At your purchase price I am assuming he is neutered?
Do you have his CCA/CFA/TICA registration papers?
Do you have his pedigree info available, or the name of the breeder you purchased him from?
Would you be willing toprovide veterinary health records and or the name of your vet in Guelph so I could call them for the info?
Would I be able to come by and meet Hank and yourself if it came to that?
Please email me and we can exchange more info via email or telephone if you prefer.
Thanks Holly