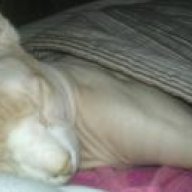 V.I.P Lairian
V.I.P Lairian
Joined

Apr 26, 2010
Messages

1,029
Points

188
Is anyone familiar with the site or the books? postsecret.com

i LOVE post secret. It seems every Sunday when they post new secrets i find one that i can relate to. There's a secret this week that says "I'm not sure if i'm keeping my dog alive for me or for him. I'm not sure who is suffering more." it instantly made me think of my situation with Bronxe. Although i know right now he isn't suffering.. he doesnt seem to be.. it just always makes you think twice.

There was once a secret that said "I work at a vet's office, when your animal gets put to sleep, they look around for you. stay with them" (or something along those lines)- that is one secret i will never forget and will always stay with my animals no matter how hard it is for me to watch them cross over.

Anyone a post secret fan? if so, what's your fave secret? i have all the books and check the site every Sunday.. it's my guilty pleasure.