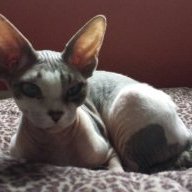 Joined

Apr 23, 2012
Messages

23,442
Points

653
please hold my friend TJ and her family in your thoughts and prayers. Her soul boy Tuxedo got his angel wings.
TJ is devastated ... Tuxedo was a true warrior.. battled brain tumor, oral cancer along with his diabetes she managed so well . Tuxedo was loved and spoiled beyond measure, her baby. He was a true warrior and continued the fight beyond all the vet specialists "time line".
she shared in our diabetic dog group :
My soul pup Tuxedo is gone. He was the most resilient creature I ever saw...2.5 years diabetic, 1 year with an untreated brain tumor and 6 months with an aggressive oral melanoma, and he never lost his spirit to live. In the last couple of months he had balance issues and fell so many times. And yet he never whined and sat around. He took a deep breath and tried again. Ive learned so much from Tuxedo about life, unconditional love and just putting your happy face on and pulling along every day. He was with me for 13 years and 3 months of his almost 14 years.
I am truly blessed to have been his mamma. I want to thank this group from the bottom of my heart. Without the amazing admins, mods and helpful people on this group, I wouldve lost my warrior a long time ago. He survived me giving him 80 units of prozinc and driving him low, random experiments before I found CDSI, with turmeric and cbd, and so much more.
My life will never be the same without him...but then it was never the same since I found him. I will miss you forever my soul boy Tuxedo. Rest in Peace my angel
"
TJ and I have been friends for a few years with her Scooby pupa bladder cancer along with my Sams bladder cancer at the same time , and then her pup Tuxedo and my Bubba Bear both diabetic. its been a helluva ride of a journey of soo much love. I have mentioned her in group in the past for prayers for Tuxedo. appreciate prayers for peace and healing on the new normal without her heartbeat at her feet. she has no other pets. her young daughter put this crown on him a couple of months ago. Her daughter very connected to Tuxedo. She doesnt even know how to read or right yet she is soo young, but yesterday,, she wrote Tuxedo's name and drew him flowers.
Rest in Love baby Tuxedo, much love from you "aunt Tammy". I carry his smile and know he had the best life of love and care beyond measure. run free with Bubba Bear and Sam.