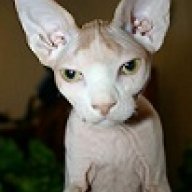 Senior Lairian
Senior Lairian
Joined

Oct 16, 2010
Messages

508
Points

0
Laying here on the sofa hungry but can't get food from kitchen. Two cats sleeping on me, don't have the heart to move them.
Another usual problem is laying in bed with a warm nudie pressed against you under the covers and having to change position but it's just so friggin cozy that you end up waiting until a screaming body makes it impossible to continiue´.
Phone rings and the first sudden step you take makes your sphynx on shoulder almost loose balance and a (trimmed) cat claw ruins your favourite T-shirt.
For once forgetting to fill up with dry food the night before and being woken up by Darwin sitting on my chest ripping out hairs from my beard one by one, a trick he always uses to get attention. If that doesn't work a friendly bite of the nose always does.
Can make the list of charming little problems infinate but you guys continiue...