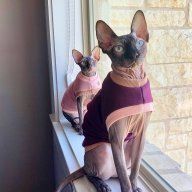 Senior Lairian
Senior Lairian
Joined

Mar 28, 2018
Messages

603
Points

198
I'm curious as to the temperatures y'all keep your houses at for your kitties!

We keep our house at 72-73 during the day, and 68 at night. Kenzo wears sweaters about 1/2 the time, but even naked, he doesn't seek out blankets very often. At night he does sleep under the covers. The colder night temp actually keeps him from doing the late night zoomies! The air kicks on at midnight to cool the house, and he takes a cue and burrows in with the rest of the crew until morning (usually sandwiched between my yorkie and I).

I want to make sure he's comfy and that he doesn't decide to sprout a fur coat any time soon. Please share your temp tips. We are in TX, so it's very hot outside currently.

I have a VERY FULL shopping cart of sphynx clothes waiting for him.... We will see his size at 6 months, then it's go time!